Submitted by

Tom Miles

on
A new Powerhearth for the marketplace!
Bill Klein, 3i, October 6, 2009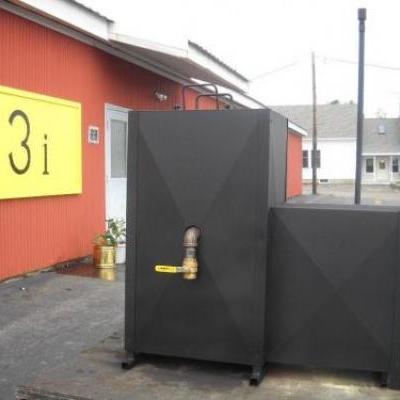 3i (International Innovations Incorporated), the manufacturers of the world famous Powerhearth, an environmentally friendly biomass conversion system, proudly announce the availability of the Mini Powerhearth in sizes from 5 to 25 KWe. Please find several photographs on the Gasification List web site or contact us directly.
The photographs are of a newly commissioned 5 KWe Powerhearth, shortly after its final testing before delivery to the customer.
This particular unit is a trailer mounted model and will be used in the woods by the customer/logger as a power source for his portable sawmill. By choice, it will be manually operated and batch loaded.
Our regular production model would be outfitted with a continuous feed, airtight auger system from an adjacent metering bin.
We first began work on the great grandparents of this little guy in 2006 and, after thousands of hours of testing, decided we could finally commercialize the model last June. Though a "hunk of metal", we think it's beautiful and it works so bloody well!
A few stats:
Fixed bed, downdraft, linear hearth biomass conversion system
Two inch throat
Makes in excess of 10 cfm gas flow, measured after the gas cooler/cleaner/polisher
Length - without shrouds: 1.5 feet
Width - without shrouds: 1.16 feet
Height: Just under four feet
Weight: approximately 500 lbs.
Operating temperature: 1,250 - 1,300 C
Turndown test - 12 hours: less than 2 cfm
Prior to shipment, each unit undergoes 2 24 hour non stop tests and a 100 hour non stop certification test. The same tests are repeated during commissioning, but with engine(s) and electronics, computers, etc. fully integrated**
** As an option, the unit is capable of full automation, including ash removal and is sized appropriately to maintain net output and parasitic load.
Feedstock: wood chips* 15 to 25% mc and produces a clean and clear flare.
Ash content: approximately 0.25%, but may go as high as 0.5% - clean, fine ash w/o visible char
* As part of the test protocol, each Powerhearth is tested with briquettes of various origin as a check for versatility. Briquettes include green waste, bagasse, non putrescent MSW, black coal, brown coal, rubber, sewage sludge, livestock waste, certain plastics and RDF.
We believe this to be the smallest commercial gasifier capable of producing clean, engine ready, gas 24/7. Each unit is accompanied by the same Powerhearth performance guarantee and full service warranty.
Respectfully,
Bill Klein
3i
Powerhearth: the power of energy independence. It's your choice!
http://www.3iAlternativePower.com