Submitted by

Tom Miles

on
Cuba´s first biomass gasification technology installed
Oscar L. Jimenez, Bioenergy Group, Cubaenergia, Cuba Apri 28, 2010
">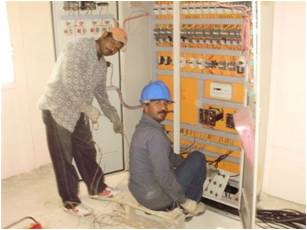 Technician from IISC, installing the system´s control panel.
The first Cuban biomass gasification based technology is installed in Isla de la Juventud.
As an output of a GEF-UNDP partially funded renewable energy project, a 50 kWe biomass gasification based technology is in its final installation stage and ready to start its running test in order to tune-up the system.
The technology, which was designed and engineered by the Indian Institute of Science (IISC) at Bangalore India, includes a downdraft gasifier, woodgas cleaning train and a Denyo engine running on dual fuel mode. The system was successfully tested at IISC before its shipping to Cuba.
The gasification system is aimed to powering Cocodrilo´s village which is a small and isolated area located on the south part of Isla de la Juventud (formerly known as Isle of Pine). Isla de la Juventud is the second largest island of the Cuban archipelago, based on the southwest region of Cuba´s Main Island.
Cocodrilos´s village is sited in a rather large region with abundant biomass resource.
Equipment already installed on the process site.
Dr. Oscar L. Jimenez.
Bioenergy Group.
Cubaenergia.
Cuba.
Email: oscar@cubaenergia.cu
3